September 18, 2007
Standard & Poor's (S&P) manage a range of U.S. and global indexes including 'headline' equity indices for the U.S., Canadian and Australian markets.
The http://www2.standardandpoors.com site is a portal to international S&P sites. Index lists and information on indices and investment related matters is available from the  various sites.
This article solely references the U.S. site to download a current S&P500 constituent list.
To download an S&P500 constituents list:
1) Go to U.S. Homepage  >> Indices >> Equity Indices >> United States and select S&P500 from the Major Indices HTML list. (This opens an S&P500 information panel with Overview as the default) or take the shortcut:
http://www2.standardandpoors.com/portal/site/sp/en/us/page.topic/indices_500/2,3,2,2,0,0,0,0,0,1,3,0,0,0,0,0.html
Note: Additional information on the S&P500, including Index Changes, can be obtained by clicking on the alternative tabs.
2) Click on Constituents List in the Overview sub-panel.

3) Click on the Download Table link in the header of the list that opens.

A Download File window will open.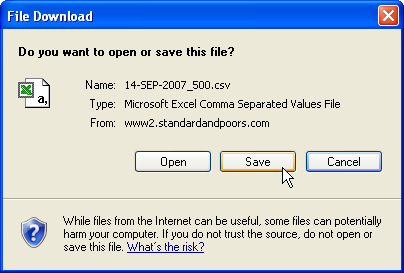 4) Save the file to a local drive.
An example AmiBroker application that uses an S&P download will be included in future posts.
ATTACHED FILE:
S&P500 Constituent List: sandp500sept2007.xls 
Note: The file was uploaded as an Excel file as the CSV file-type used, in this case, did not pass the site upload security filter.
Written using Windows XPHome, Internet Explorer v7 and Excel 2002.

Filed by brian_z at 1:38 am under Database Management Resources
Comments Off on Indexes – Standard and Poor's