September 23, 2007
Yahoo sources data from a number of providers who are acknowledged at the bottom of the Y!Finance page: http://finance.yahoo.com/

The partner page link in that section opens a list of delayed intra-day data suppliers: http://finance.yahoo.com/exchanges
As well as that, other providers are acknowledged in other places e.g. the S&P500 index is provided by Comstock and industry information, "on 7500 publicly traded U.S. companies", is from Hemscott Americas etc.
The obvious point is that there are, at the least, two historical quotes databases, a fundamental database and several delayed intra-day data streams used, in different ways and in different places, at the site and there is no relationship between them in anyway. Some pages are a compendium, sourced from different providers, and it is difficult to be certain, in some cases, what is coming from where.
The main points to be aware of:
1) The intra-day quotes, for listings on the major US exchanges, come directly from the exchanges.
2) Intra-day quotes, for non-U.S. listings, are supplied by third party providers e.g. Comstock and Telekurs.
3) Fundamental data, for American exchange listings, is supplied by Capital IQ, a division of Standard and Poor's.
Note: The Capital IQ database is the logical choice as the underlying database for two stock screeners, although this is not confirmed at the site:
Java screener – http://screener.finance.yahoo.com/newscreener.html
HTML screener – http://screener.finance.yahoo.com/stocks.html
At the time of writing the HTML database contains 8467 listings, but sadly only allows users to view screened lists 20 at a time, while the newer Java screener, which has superior exporting abilities, only references NYSE, Nasdaq and Amex stock i.e. 4370 listings.
Bulletin Board (.OB) listings are included in the HTML screener database but Pink Sheets symbols (.PK) are not (to obtain all listings for the databases run a filter using price >= 0 as the criteria).
4) Historical data, for the U.S. markets, is supplied by Commodity Service Inc (CSI) and is updated after hours (in a trial conducted by the author the update was logged at 8 PM EST (USA) i.e. four hours after the close).
5) Historical and delayed intra-day data for the non-U.S. markets is supplied by Hemscott Americas (historical data is updated after hours).
Note: International listings require a suffix to identify the exchange.
For a list of suffixes for each exchange refer to: http://finance.yahoo.com/exchanges
6) The stock listings in the CSI (historical) database are not the same as for the Capital IQ (fundamental) database, or any other database for that matter.
7) Only one of the 'databases' has a downloadable index, albeit a limited download, while access to other resources at the site is on a symbol by symbol basis.
There is, however, the 'mother of all indexes' at: http://biz.yahoo.com/i/ (it seems likely that this index is provided by CSI, based on it's size and content e.g. it is mainly comprised of US and Canadian listings and the number of constituents also approximates the CSI universe.
The patchwork nature of the site sometimes produces surprising outcomes.
One example:
Japanese financial services company Acom Co Ltd is an ADR traded on the OTC market. It is not a constituent of the HTML screened list, and it does not have a 'Yahoo' chart. A search for the company by name, using Symbol Lookup, sometimes returns a result …….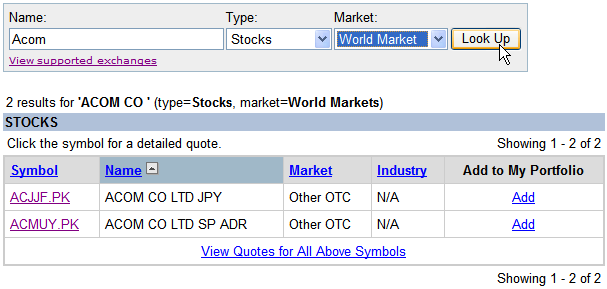 ……….and at other times it doesn't (pity about that).

In spite of all that it does have quotation and historical data at the Yahoo site.
Note: To go to Yahoo!Finance site and enter ACMUY.PK in the Enter Symbol(s) input box and click on GET QUOTES at any Y!Finance page.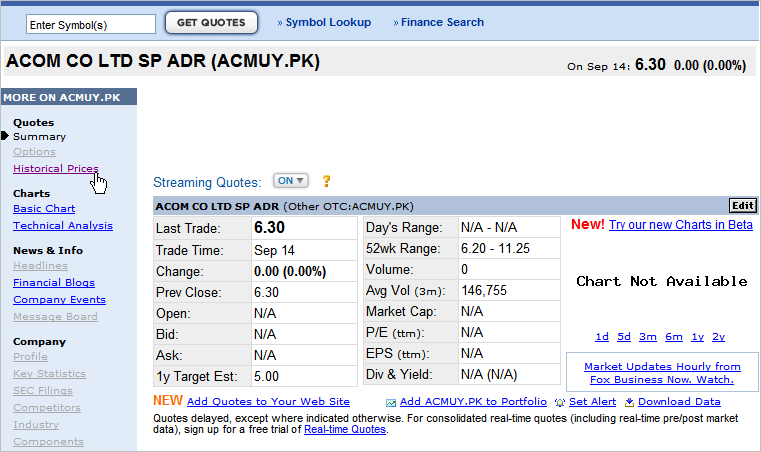 Clicking on the Historical Prices link, in the Quotes section of the left hand side bar, will open approximately two years of data for this symbol. (Yes – Amiquote will download the data).
This is a result that is typical for OTC ADR's.
All in all a mixed bag from Yahoo!Finance.
Version 1 – Sept21/2007
Version 2 – Sept23/2007 – Corrected minor errors and added links.
Written using Windows XPHome and Internet Explorer v7.

Filed by brian_z at 12:22 pm under Yahoo
Comments Off on Yahoo's Data Providers (v2)